Open Frame TVs
TVs for installation behind mirror
AVEL Open Frame TVs are specially designed for concealed installation behind a big size mirror. The detachable frame supplied in the kit allows you to install the TV with a regular sealant with the subsequent possibility of its maintenance. The frame is glued to the mirror, and the TV itself is fixed to the studs with nuts along the perimeter of the frame. This installation method provides moisture protection of the TV and is suitable for rooms with high humidity and those places where there is a possibility of water ingress. If moisture protection is not required, the TV can be installed without a frame, in which case it can be fixed in a wall niche, and not on the mirror itself.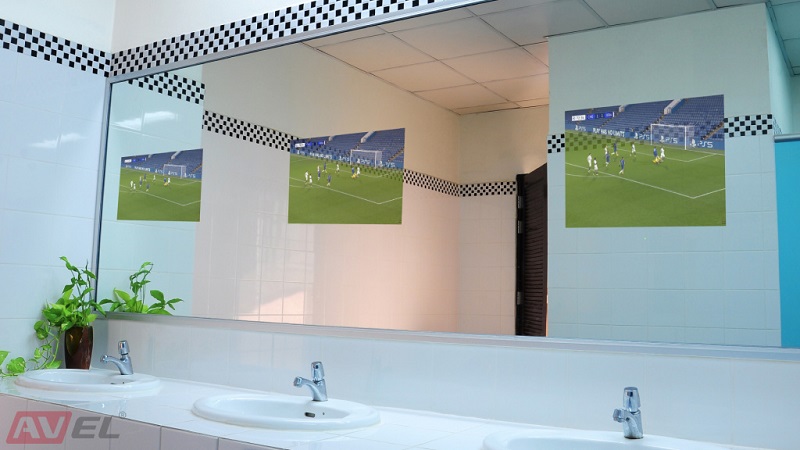 The user should be very careful when choosing the parameters of the mirror: transmission, reflection and color. It is on these parameters of the mirror that the image quality, the appearance of the TV when the screen is off, and the final result of the entire project depend. Our experts are ready to consult you and recommend the optimal optical parameters of the mirror for installing AVEL Open Frame TVs. Please note that the entire surface of the translucent mirror, except for the TV screen area, must be painted with black opaque paint from the inside. This is necessary in order to avoid flare and glare, which inevitably occur behind the mirror.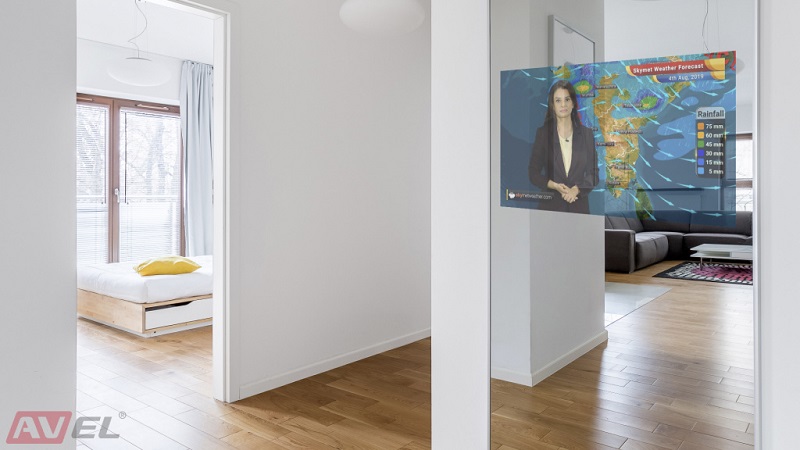 To install Open Frame TVs, prepare a niche in which the TV case will be placed. All connectors for TV that you plan to use must be led out into the niche. The sealed cover on the back of the AVEL TVs case reliably protects interfaces for connecting power supply, media boxes, antenna and satellite cables, Ci+ cards, and USB storages from water.
All AVEL TVs are equipped with vibration speakers (impulse acoustics), which are placed on the back side of the mirror (glass) and transmit sound using speaker vibrations to the mirror (glass). This way of transmitting sound makes it possible to hide the speakers and preserve the aesthetics without sacrificing sound quality. External speakers can be connected to Open Frame TVs using the HDMI ARC digital output.
AVEL TVs use matrices with maximum viewing angles and increased brightness, allowing for comfortable viewing experience from any position. Open Frame TVs are supplied with super-bright matrices by order.