Translate:




Smart mirrors
Mirrors have been present in human life from time immemorial. During this entire period, they have developed from extremely simple to technically complex devices capable of performing far more than one initial function of reflection.
Smart Mirror is a product of modern and progressive technologies. It is still great at what it is meant to do, but it can come with additional features, from automatic defogging and music playback to smart makeup tips or virtual try-on.
Nowadays smart mirrors are more often used by businesses, especially when it comes to the beauty industry. Mirrors are equipped with built-in cameras and touch screens. In addition, with sophisticated software, a make-up or image option, an assortment of a store or a virtual fitness trainer can be displayed on a mirror surface, looking at which you need to perform exercises and get tips.
For personal use there are peculiar smart mirror models that can already be bought in regular stores as well. Below we present AVEL mirrors combined with TVs, the functions they have, and how they can be used.
Smart mirror TV in the bathroom
A mirror TV looks like a regular mirror when the screen is off, but when you turn on such a TV, a full-fledged image appears in the middle in excellent quality.
AVEL produces Mirror TVs with screens from 23.8 to 75 inches. You can choose the perfect option for any interior: from a standard small bathroom to a spacious pool. Surely, you can place such a mirror in the bedroom or in the living room, for example, above the fireplace.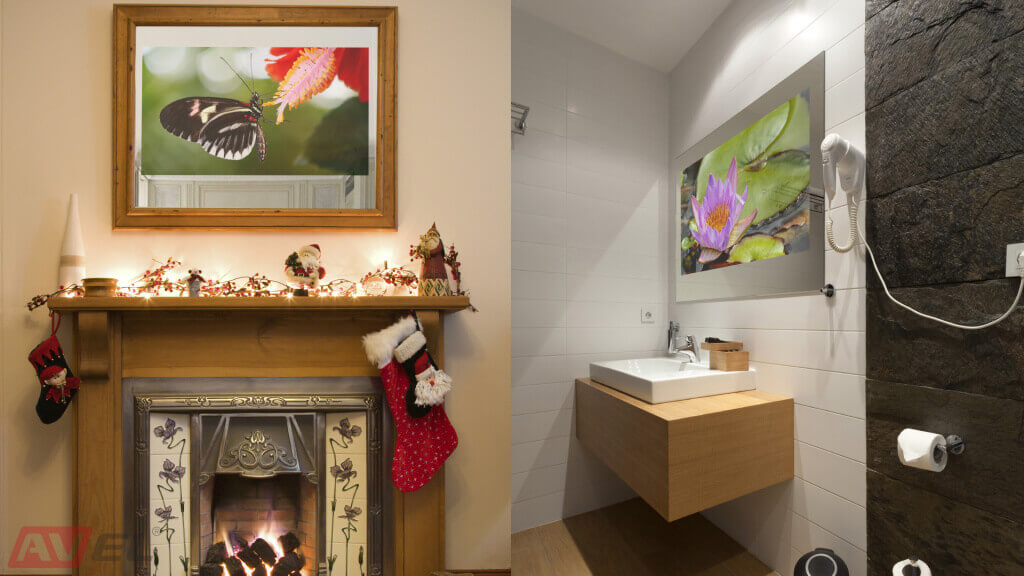 To make the mirror truly smart, you need to connect a media attachment to it. In our case, we suggest adding Xiaomi Mi TV Stick or Xiaomi Mi TV Box S, which are compact in size, easy to connect and greatly expand the regular TV experience. An additional advantage of these adapters is that they are regularly updated, which ensures that the latest version of Android is used.
On such a smart mirror, any applications from Google Play will be available, providing a group of extensive features:
reading the news
checking the weather forecast,
searching YouTube videos with voice control,
sending any photos and videos from your smartphone to the mirror via Miracast and Airplay,
watching your favorite series on streaming apps,
checking email while brushing your teeth,
and much more.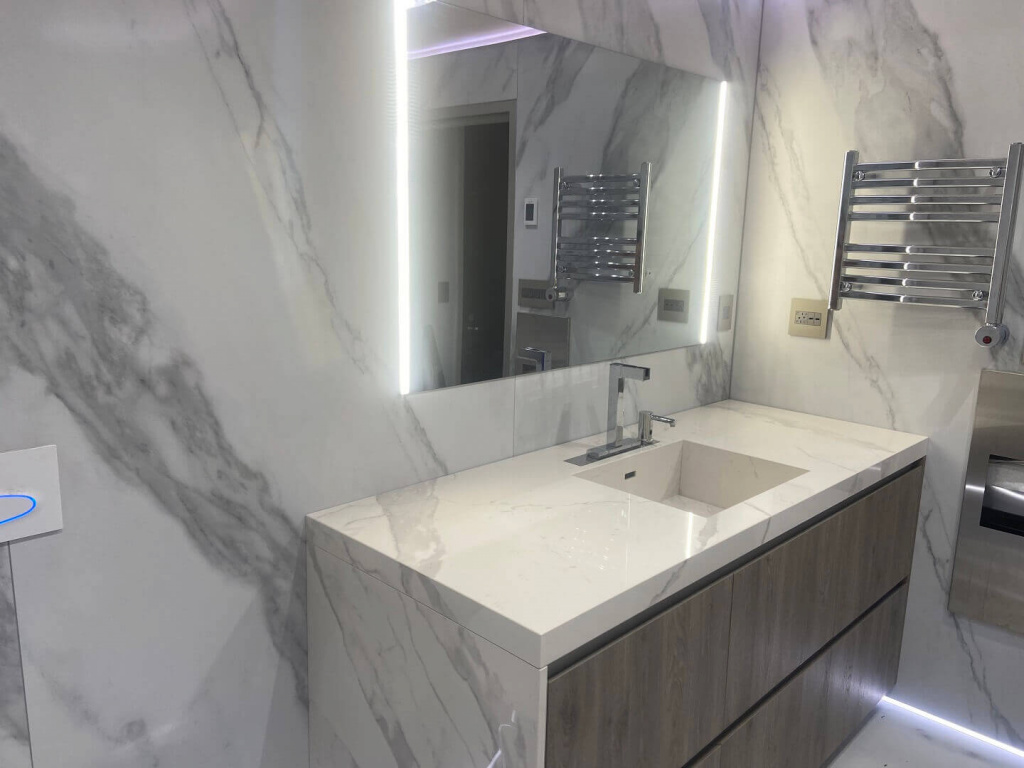 All AVEL smart mirrors are also equipped with a digital TV tuner, allowing you to watch your favorite TV channels in excellent quality. Particularly stands out the model AVS550SM, the screen of which has a resolution of 4K (3840x2160 pixels). Moreover, SM series TVs with screens of 43, 65 and 75 inches can boast of this image quality. The Android mediabox Xiaomi Mi TV Box S, included with these devices, supports 4K resolution, which means that any broadcast of video materials on such a smart bathroom mirror will give you an unforgettable experience of complete immersion in the picture.
The bathroom is a room with a constantly high level of humidity. In this regard, the device that will be located here must be reliably protected from damage caused by the ingress of water and steam into the housing. With our devices there are no more worries about it, all AVEL models have an IPx4 degree of protection, that is, they are protected from water splashes in any direction. An even more reliable option is to build a mirror TV into the wall, since the front panel of the TV is made of tempered glass. Our TVs can be safely installed in any wet room, whether it is a swimming pool, a sauna, or an ordinary bathroom.
Smart mirror with custom design
The previous options are good for quick installation in homes, their laconic design and dimensions will easily match any interior. However, if you want something more individual, non-standard shapes or sizes, then AVEL has special TVs of the Open Frame series without front panel, which are installed behind any mirror surface of your choice.
Please note that the final price of a smart mirror will depend on the front panel mirror you choose.
The models of the Open Frame line with the screen size from 23.8 to 75 inches are designed for installation in a special niche on the wall, but surface mounting using VESA brackets is also acceptable. All of them are great for creating personal interior solutions, as their final design is determined by you personally. Functionally, they are similar to SM series, and in most models, the smart TV option is provided by an additionally connected media player Xiaomi.
However, for models with screens of 43, 55 inches and more, the Smart TV function is already built-in. Such smart mirrors work on the Android 9 operating system, can play streaming video from a smartphone and provide Internet access without connecting additional devices.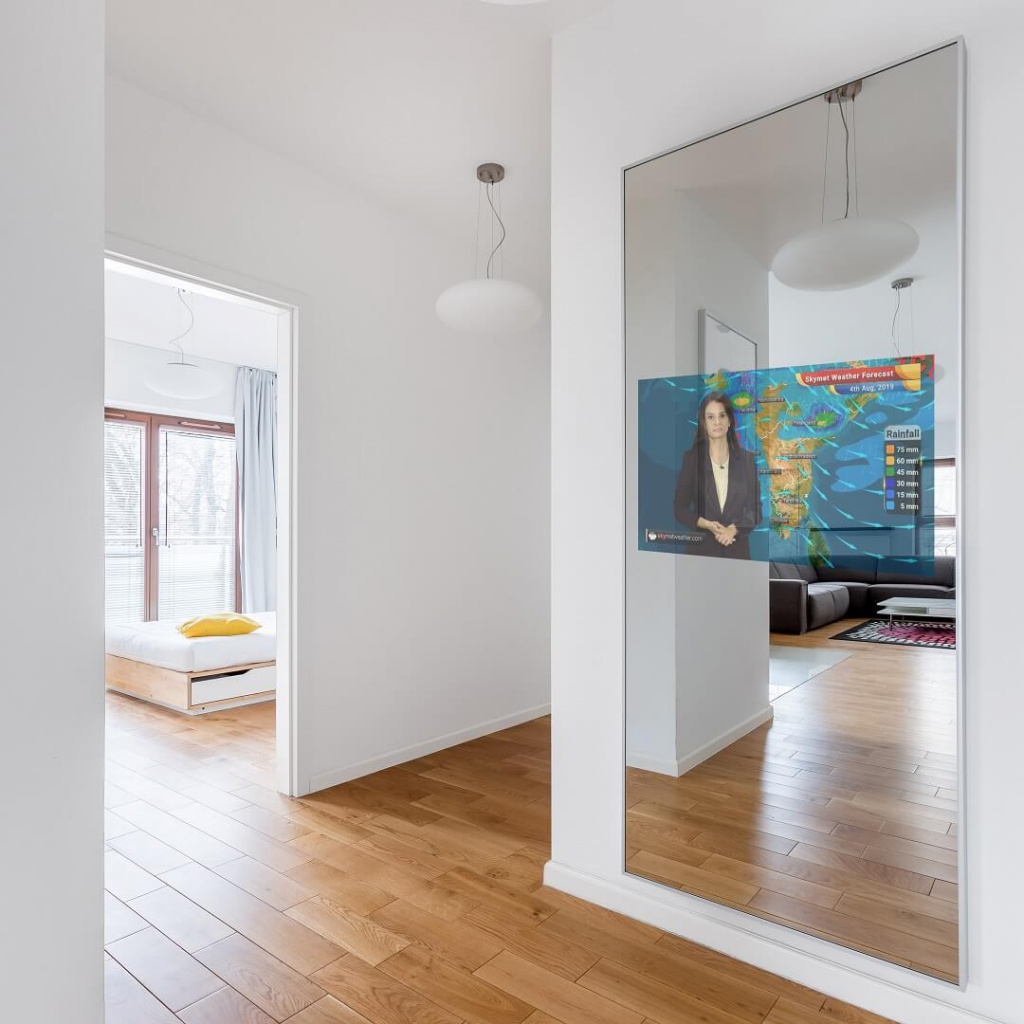 Smart Mirror AVS220OF/AVS270OF
Besides, it is worth highlighting these two models, unique in the AVEL TV line, which are designed specifically for installation behind a mirror of any shape and size. Their thin bodies allow for surface mounting over wall mounting, and this proves to be a very convenient option when there is no way to prepare a niche in advance. Both products are supplied without glass, the choice of the front panel design is up to you.
The individual look of the mirror behind which the device will be placed guarantees a perfect fit Smart Mirror both the home interior and the overall style of the commercial space. For business the product will be useful not only as an interesting design object, but also as an interactive advertising tool. In addition, the part of the mirror that is not used as a screen can be used for branding by putting a company logo, a slogan or other distinctive and memorable details on top.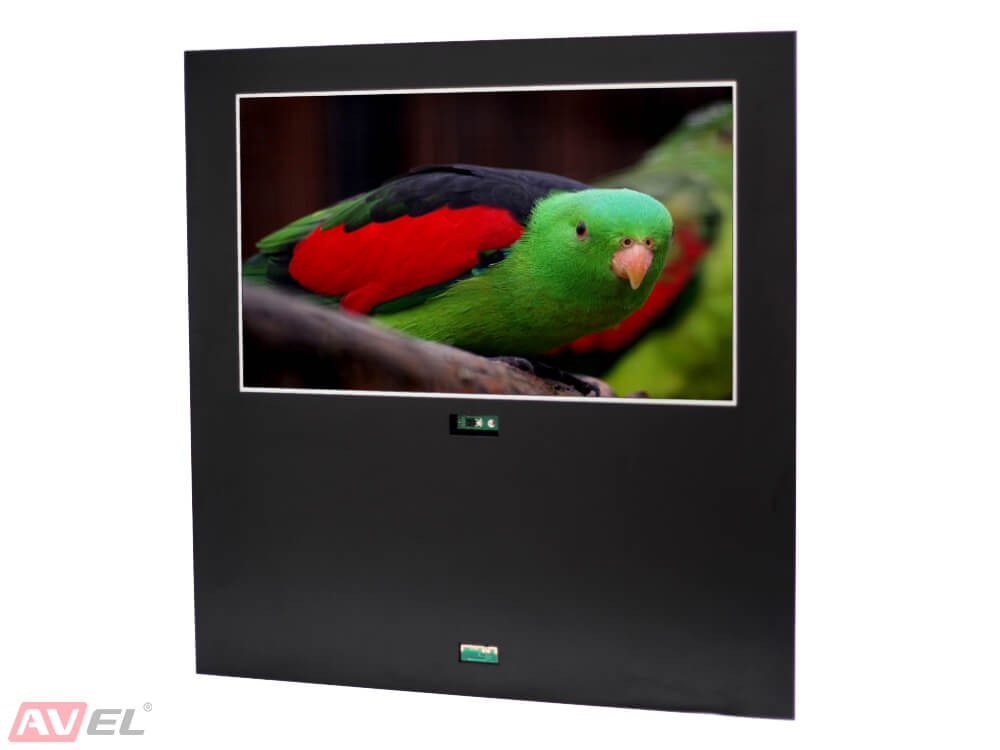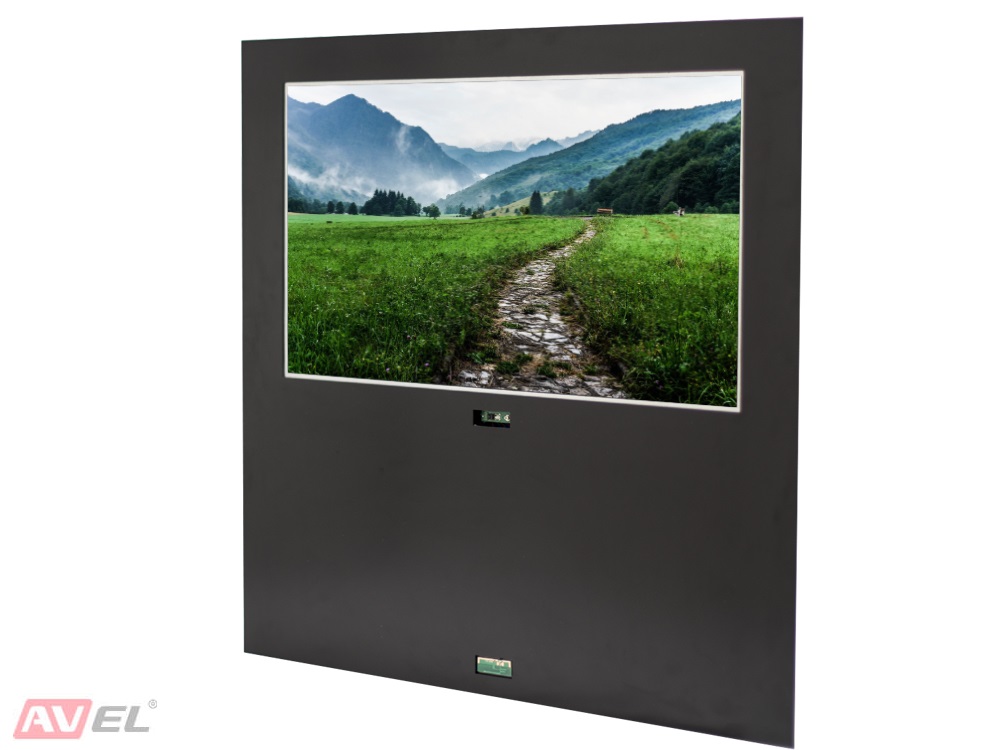 Both models have a bright IPS screen with Full HD resolution (21.5 inches for AVS220OF and 27 inches for AVS270OF), they can work both with built-in vibration speakers and with simple remote speakers. They operate on the basis of Android, support the Miracast and Airplay technologies.
AVEL smart mirrors
In our range you will find both mirror TVs in standard sizes and devices for the realization of personal design solutions. However, whatever the final appearance of the device is, the technical component will remain at a high level.
The AVEL smart mirror has a two-year warranty. Our products have all the necessary certificates, adequately passed the tests for protection against moisture and resistance to high temperatures. You can safely place a TV mirror at home (in the bathroom, bedroom, living room) or at work (at the spa, at the beauty salon, at the hairdresser's).
Back to the list