Translate:




How to choose the best TV for your kitchen
Every person who has dealt with the repair of an apartment knows that close attention should be paid to kitchen planning. It requires choosing not only finishing materials and furniture, but also appliances, as well as thinking about its convenient location.
The idea of installing a TV in the kitchen is not new, many people have long located this device there. This intention is clear, now that we spend a great deal of time in this room. However, if people used to move an old TV to the kitchen or buy an ordinary TV with a smaller screen, now you have access to models that were originally designed to be installed in the kitchen.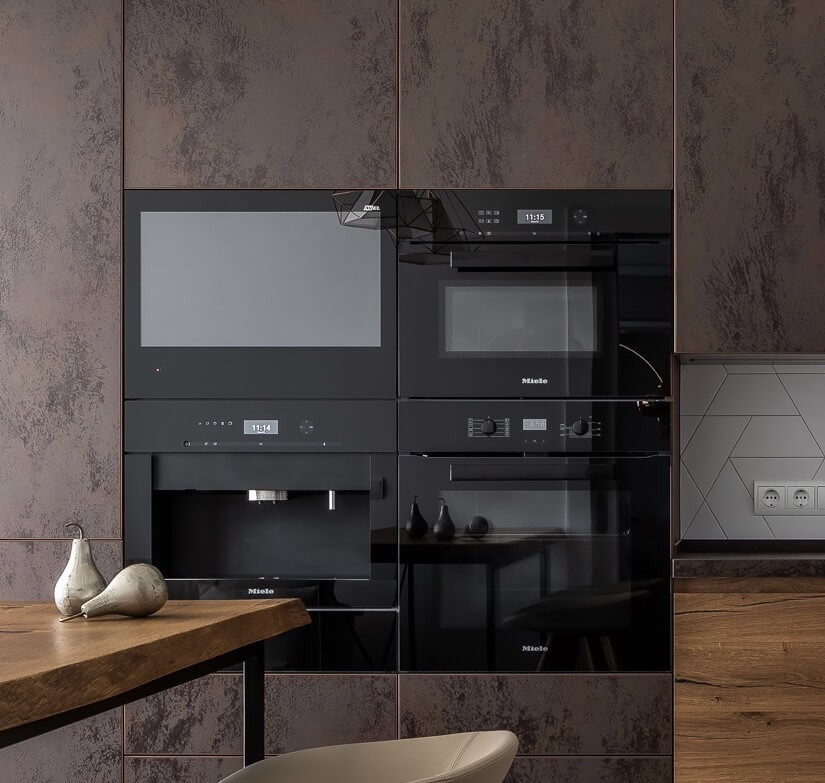 Features of kitchen TV
Surely, any person would agree there is a very specific atmosphere in the kitchen. The equipment, including the TV, can be affected by high temperature and humidity, splashes of water and cooked food can fall on it. To avoid breakdowns, users should choose appliances that was developed specifically for operation in such conditions.
The case of built-in TVs is made of metal, which allows it to effectively dissipate heat. The front panel is made of tempered glass. This is a safe and practical solution: if you accidentally break the glass, its fragments will have blunt edges, which will significantly reduce the risk of cuts, and the canvas itself can be replaced by returning the TV for repair.
Moreover, the glass surface of the TV is easy to wash along with other equipment or mirrors at home (use only mild, non-abrasive detergents!).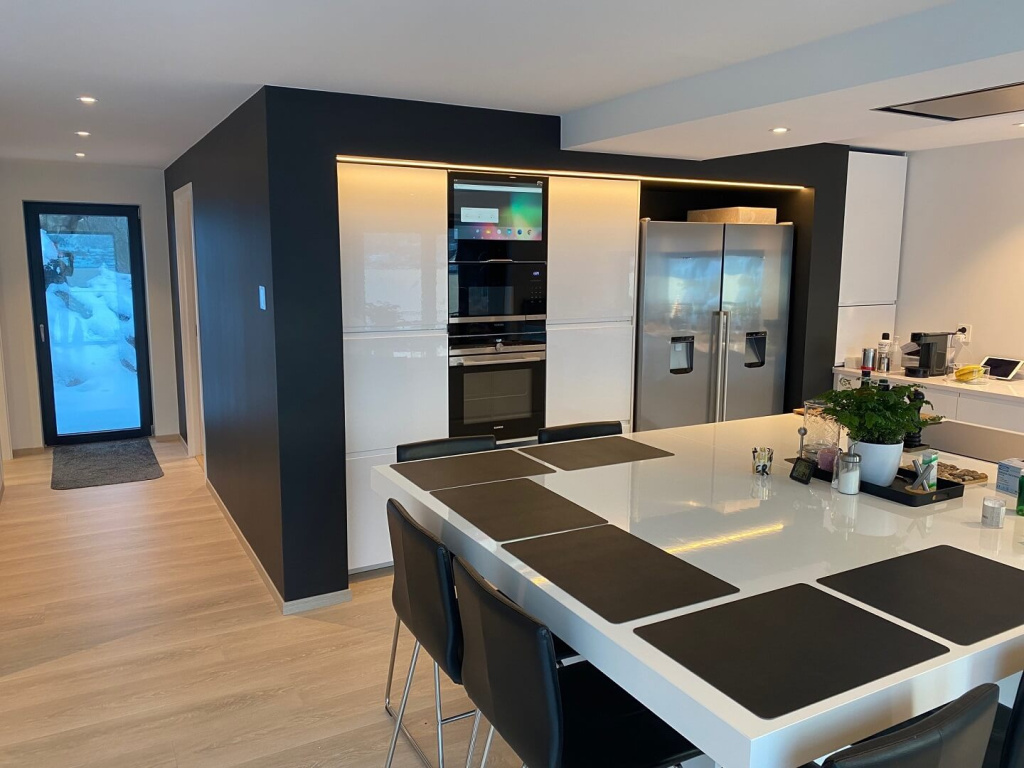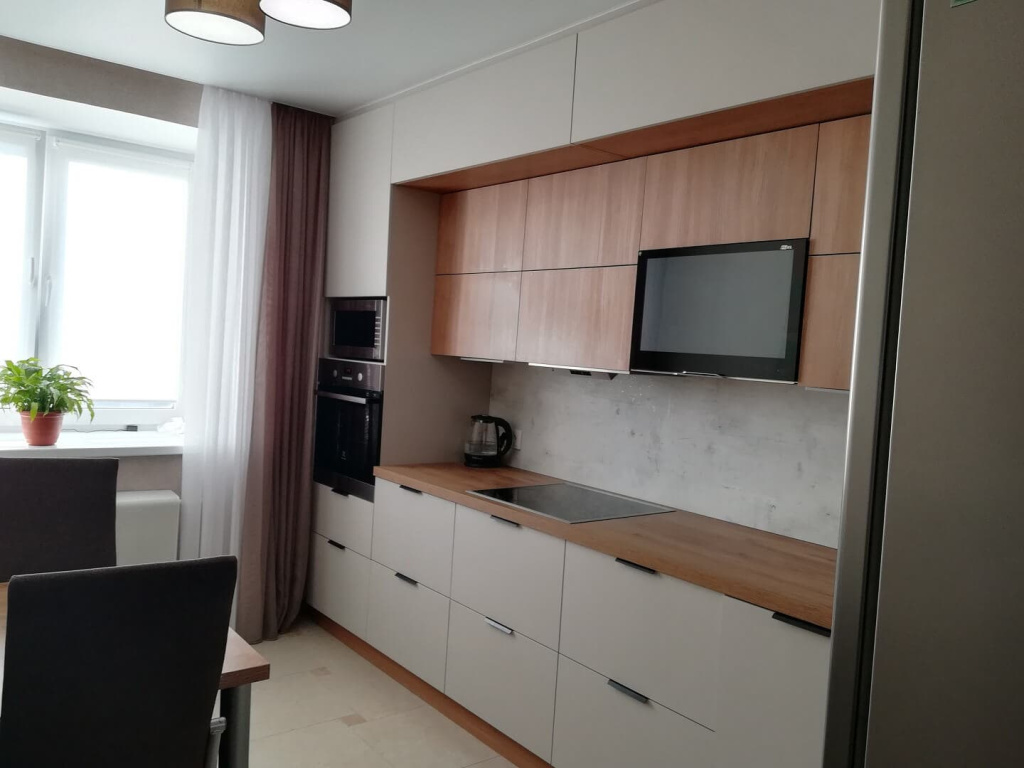 Placing a built-in kitchen TV
Previously, the TV was often installed on a bracket above the refrigerator or placed on a free horizontal surface. However, these are not very convenient and rational options, because in the first case the screen was too high, and in the second case the device took up precious working space. Modern built-in TVs are devoid of these shortcomings.
If we are talking about specialized models for the kitchen, they are installed in hinged kitchen cabinets instead of a standard door or in column cabinets next to other built-in appliances. This installation method is very convenient: the TV is placed at eye level without taking up useful kitchen space. Installation is carried out with the help of special lifting mechanisms that ensure reliability and convenience of opening. Every person can easily use the cabinet behind the TV as intended, storing dishes or other necessary things there. Thus, the TV is fully integrated into the furniture, becoming its functional part.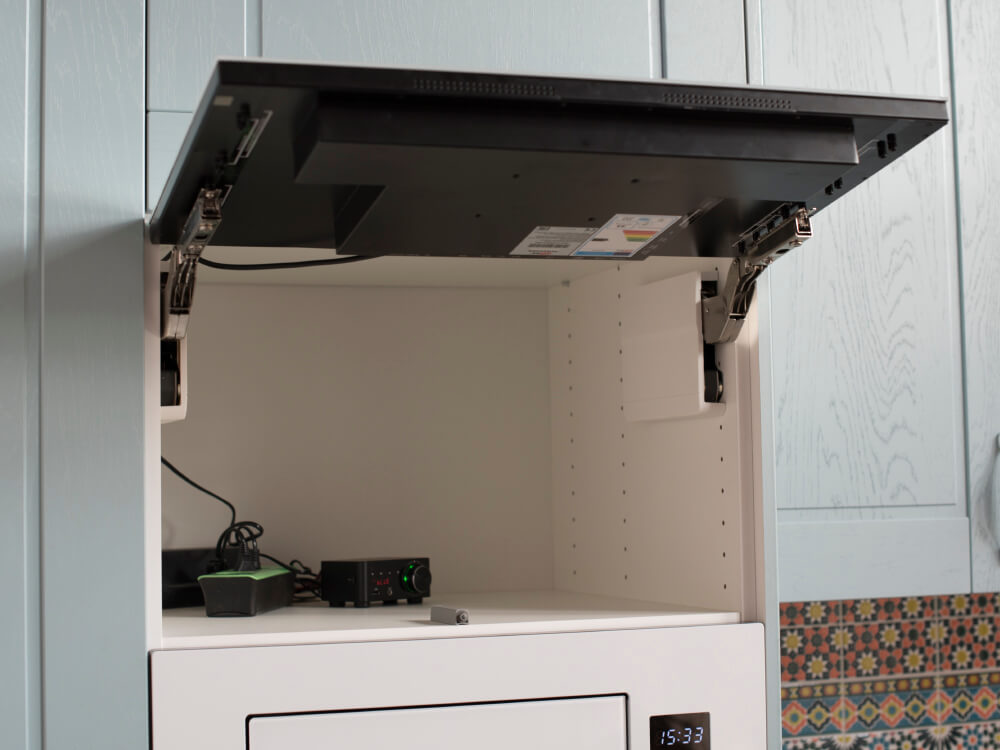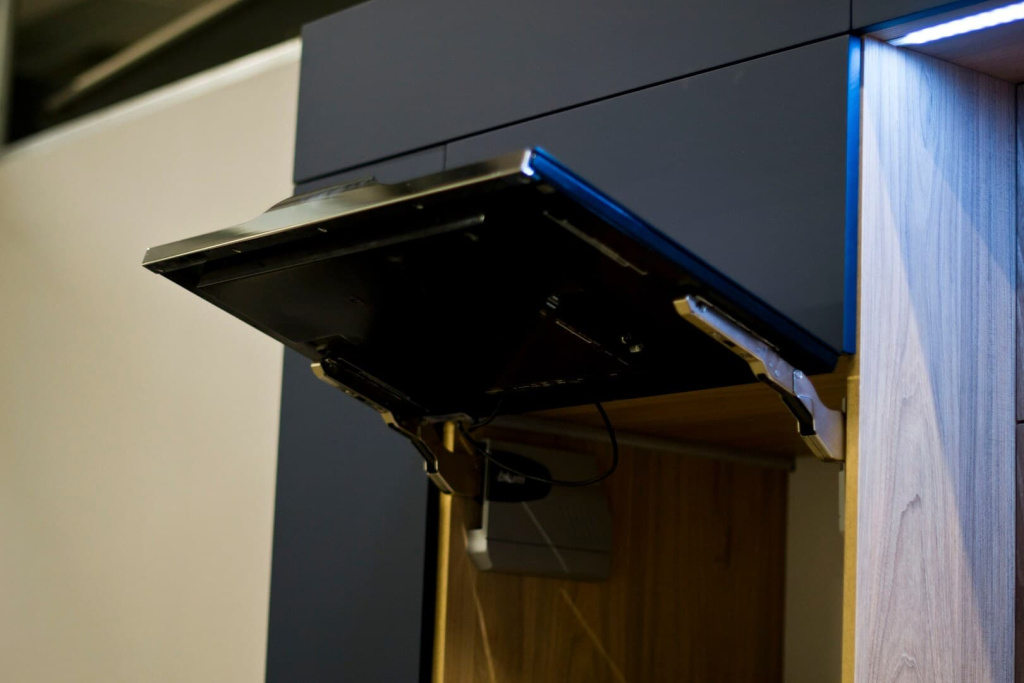 AVEL built-in TVs with vibration speakers can be placed in any convenient section of the cabinet. Such devices are protected around the perimeter of the case and are not exposed to the negative effects of moisture and steam, so they can work stably next to a sink, stove or oven. However, due to the design features of the TV model without vibration speakers, it is not recommended to install it above the cooktop.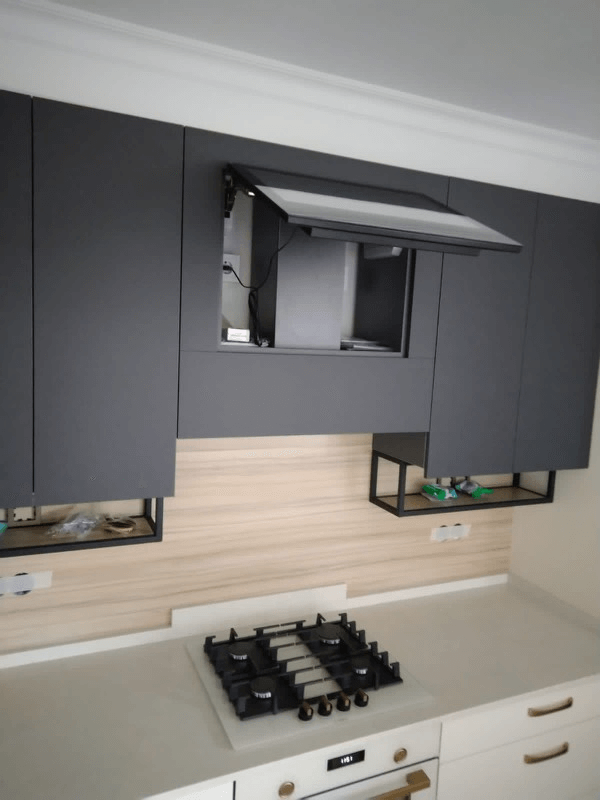 Choosing the size of the kitchen TV
As a rule, TVs with a huge screen are not chosen for installation in the kitchen, but a user can fully enjoy watching a movie more comfortably in the living room. For watching the morning news or background series while cooking, options with a diagonal of 21-32 inches are quite suitable. Such a size will allow you to place the TV instead of the cabinet door, while it will be convenient for viewing from any corner of the room.
In kitchen furniture, modules with a width of 60 cm are most often found. This is the optimal size for cabinets, suitable both for storage and for installing a sink or cooking surface. Built-in TVs also often have exactly this width. In our catalog, these are the most popular models AVS240KS and AVS240WS with a 23.8" screen, differing in body height (455 and 382 mm, respectively).
If a wider section is necessary, choose the model AVS320KS. Such a device has a larger screen size (32 inches) and can be installed in a cabinet with a width of 90 cm. For owners of the American standard kitchen appliances, a 32-inch TV AVS325KS is suitable, the dimensions of which allow installing all devices in a cabinet with a width of 76 cm.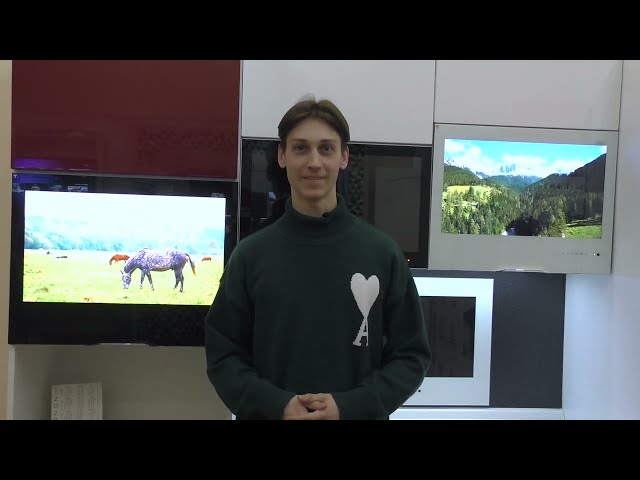 Choosing the color of the TV for the kitchen
This option depends entirely on your aesthetic preferences and the design of the room.
Black color is the most universal and practical, however, if you have all the equipment in white, you will probably want to consider a TV with a frame of the same color. It should only be noted that it is necessary to pay attention to the shade of white color so that all devices look harmonious.
Choosing a fully mirrored TV, you will definitely get a non-trivial object in your kitchen. However, remember that such a TV is not recommended to be installed in front of a window or counter spot lighting, in order to avoid glare, which is reflected and does not deteriorate the brightness of the image.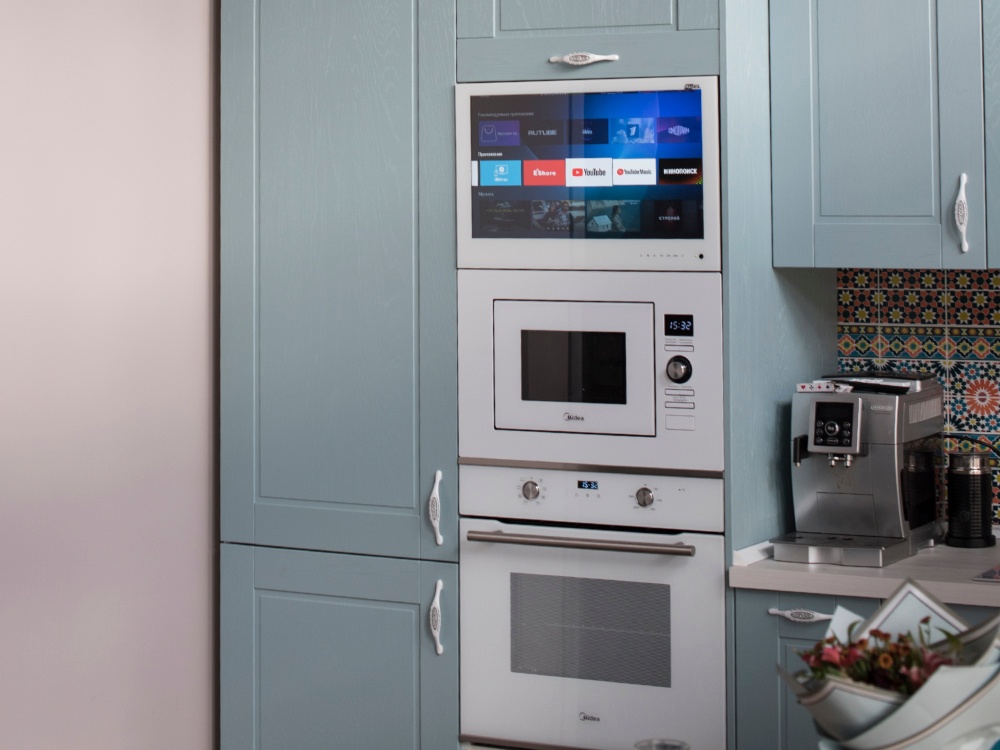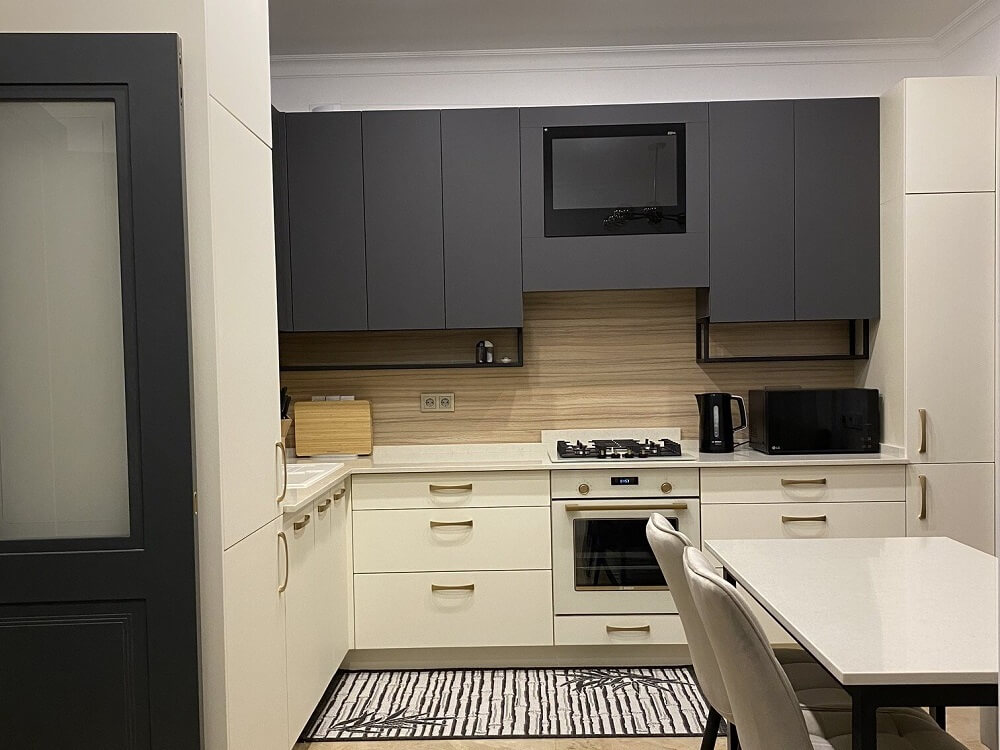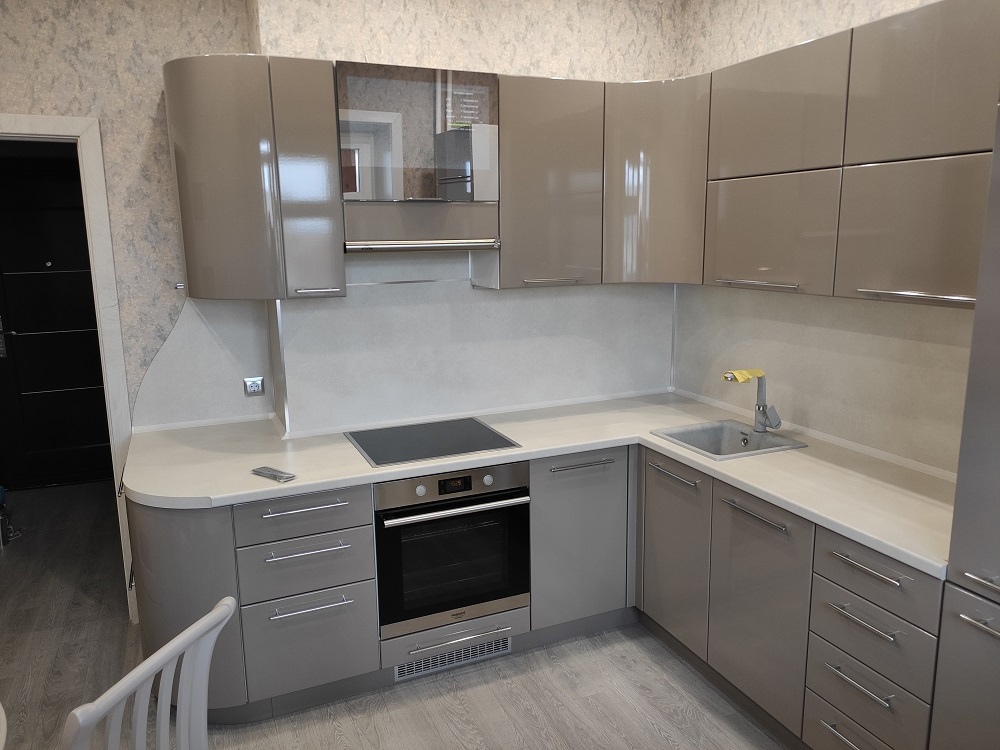 Smart TVs and large Android tablets
The young generation watches less news programs from the standard television network, preferring to search for all the information on the network. However, this is not a reason to completely abandon the screen in the kitchen, just remember to choose a model basing on these preferences.
If you want to decide for yourself what content and at what time is convenient for you to watch, then the AVS240KT touchscreen Android panel is the perfect choice for you. In this case, you will be able to watch online videos, download the necessary applications from the Google Play Store, and communicate with friends via video. But you should not worry that in the future you will regret giving up TV, because the ability to watch TV programs will remain, only the broadcast will be broadcast with the help of Internet applications.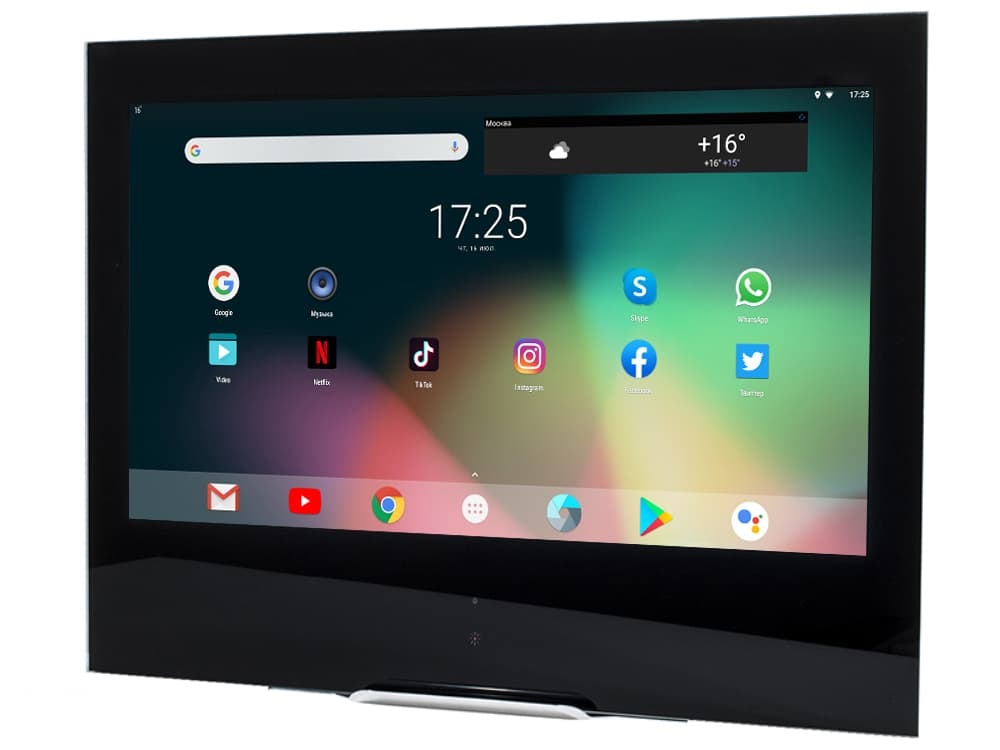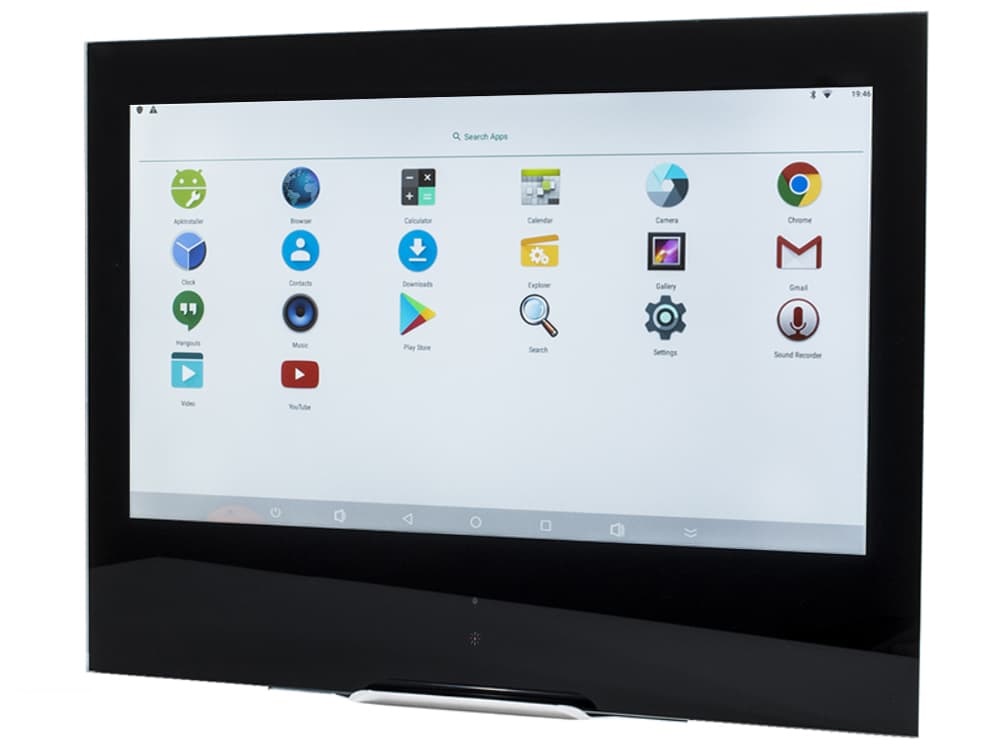 Other models of kitchen TVs from our assortment will also please you with their modern capabilities. All of them are smart devices with the ability to access the Internet and view additional content.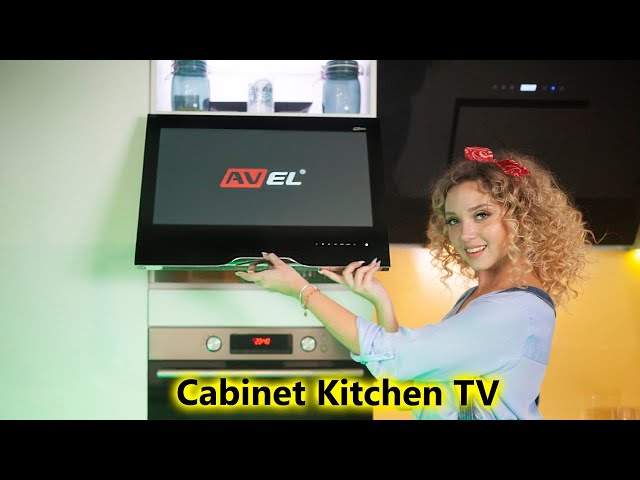 Now it's time for the conclusion. To be satisfied with the choice of a kitchen TV, you need to pay attention to the following points:
Method of installation. Ordinary TVs, for which you still need to find a convenient location, are becoming a thing of the past. A modern option that will decorate the interior and save space is a built-in TV.
TV size. Since built-in TVs are installed in kitchen cabinets, you need to know the dimensions of the section where the device will be placed in advance. Usually these are standard modules of 60 and 90 cm, which correspond to TVs with a screen diagonal of 23.8 and 32 inches. But there are models for less common cabinets with a width of 30 inches (76 cm).

Appropriate color. Classic black, refined white or non-trivial mirror – choose a color that you like to match with other interior elements.

Additional features. Modern TVs have Smart TV technology and can connect to the Internet. This will allow not to limit oneself to a standard TV program, but to watch new and interesting content online.

Back to the list